At the All On 4 Clinic we have streamlined methods and an approach made possible not only by our facilities throughout Australia but through our innovative techniques and processes aimed at improving outcomes in the most efficacious manner.
Whilst our facilities in Melbourne, Brisbane, Sydney, Perth, Gold Coast and Tasmania cater for patients who travel from country or abroad by offering an expedited service through our Traveller Fast-Tracking System, in the more typical situations an All-On-4 Dental Implants procedure for a full set replacement normally involves a number of visits to our dentist and/or dental technician, but from the day of surgery, we take pride in being capable to deliver the final result within the space of 1-2 days. Depending on your dental condition and individual needs the dentist will advise you on your best treatment alternatives.
The course of treatment described below is the most common process for an All On Four procedure at our clinics, but is one of several other options depending on findings at your initial consultation.
This happy All-On-4 patient said goodbye forever to her dentures.
This happy All-On-4 patient said goodbye forever to her dentures.
STEP 1 - OPTIONAL
FREE PRE-CONSULTATION INTERVIEW
Before being examined by a trained dentist to establish a diagnosis and treatment plan for you, some of our clinics offer a pre-consultation service where you would see a member of the dental team, such as a technician or a clinical coordinator, who have been sufficiently involved in the entire process by working side-by-side with the dentist performing the operations to enable them to explore in general various treatment options and discuss in some detail the All On 4 Dental Implants Procedure. You may ask to see some of our work for patients with similar conditions to yours, and for any particular information that you may be interested in.
Appointment Duration: 30 minutes

This is a FREE service but is not offered at all locations. To find out if this service is available at a facility nearest to you please send us an email enquiry or call us today on 1300 255 664.

STEP 2
CONSULTATION WITH AN EXPERT
Make an appointment for a consultation with one of our trained All On 4 Implant Dentists who will oversee your treatment once you decide to proceed. The dentist will examine your mouth, explore all your treatment alternatives and determine the most appropriate solution to fit your individual needs and expectations. Where there appear to be non-All-On-4 treatment options and when appropriate you may also need to see another team clinician to examine the viability of those options that do not involve the removal of your teeth, if any.
Appointment Duration: 30-60 minutes.
Approximate Fee: $150
STEP 3
X-RAYS
Special x-rays called cone-beam CT (CBCT) scans are needed to complete your diagnosis, determine your suitability for any sort of treatment, and plan the positioning of the fixtures.
Most of our facilities throughout Australia have an onsite radiology service that is bulk billed whenever possible, but in Perth and Brisbane you will require referral to a radiology centre.
Approximate Fee: The assessment of your x-rays is included in the fee of your consultation with the dentist, but in locations where bulk-billing is not available, there will be a separate fee for the CBCT, part of which will be claimable through Medicare.
YOUR TREATMENT PLAN
After the dentist has assessed your health, x-rays and clinical situation, you will be given a treatment plan which outlines all the treatment stages as well as the costs involved. This, again, is included within your consultation fee.
STEP 4
MOCK-UP AND PRE-OPERATIVE WORK-UP
Once you decide to proceed with oral rehabilitation involving any of our treatments All On 4, All on 4 Plus or Zygoma Plus, you will need to attend the clinic for photos, models and other records as required, so as to enable the dentist to plan the optimal set-up of the replacement teeth in terms of both appearance and function.
Appointment Duration: 30-60 minutes.
Approximate Fee: The cost of the work-up is included in the overall cost of your treatment.
DAY 1
ALL ON 4 DENTAL IMPLANTS SURGERY
After removing the teeth (if any), cleaning out any remnants of disease and preparing the jaw bone to accept the fixtures, these are inserted according to the work-up along with any repair or reconstructive work as may be required. The wounds are closed with dissolvable sutures that take 7-10 days to completely dissolve without the need for another appointment to remove them.
The surgery is typically done under General Anaesthetic or some form of sedation.
Impressions are then taken of the implants through tiny opening in the gum, and this is sent to the laboratory.
The stents that the laboratory had prepared in advance are then used as a first try-in to help get very close to an optimal arrangement in the next stage.

Appointment Duration: 1 – 3 Hours
Actual Patient
DAY 1 (OR 2)
TRY-IN OF THE NEW ARRANGEMENT
While you are enjoying comfort in a recovery area, the laboratory works off the stents records obtained at surgery and prepares a new arrangement or set-up of teeth in wax. This is typically tried in your mouth a few hours later, but in some cases may need to be done the next day.
At this appointment, all the necessary adjustments are implemented as required, and before you leave you get to see what the final teeth are going to look like.
Appointment Duration: 30-60 minutes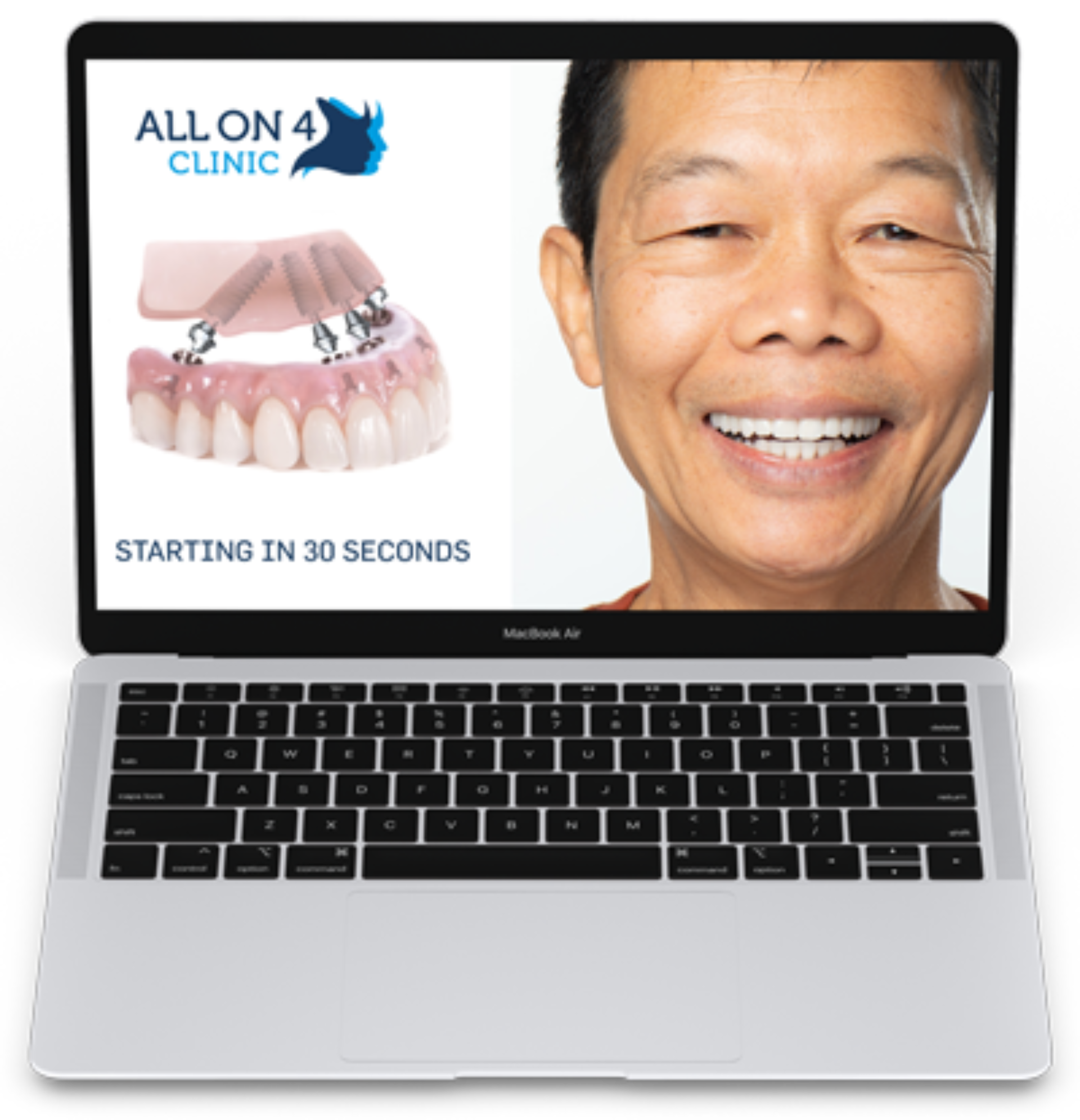 FREE Online Information Webinar
With NEW On-Demand Options and Hosted Implant Surgeon Sessions!
Everything you need to know about All-On-4, All-On-4 Plus and all aspects of the treatment process in less than 60 minutes.
Watch Now!