1. They allow you to eat foods you otherwise couldn't
If some of your teeth are deteriorated or missing, you probably can't enjoy hard-chewing foods such as nuts, jerky, grains, and some fruits. Even with dentures, there are still some foods such as popcorn, apples, steak, nuts, and sticky candy that you shouldn't eat. But with All-On-4 implants, you can eat all these foods without worrying about staining or damaging the teeth.
2. They are an amazing permanent alternative to dentures
Unlike dentures, All-on-4 dental implants are fixed permanently and securely onto your gum. That means they never get loose or shift like dentures often do. Plus, All-on-4 implants are a more economical and practical choice than replacing each tooth individually.
3. The All On 4 Clinics' implants are easy to clean
The bridges we use for our All-on-4 implants are made from a combination of exotic materials such as porcelain, zirconia, and acrylic. These are not only durable and hard-wearing but also easy to clean and resistant to stains.
4. Not all All-On-4 procedures are the same
Fixing All-on-4 implants and bridges involves complex surgical procedures. Plus, the surgical processes are personalised based on an individual's dental characteristics. For reassurance, choose a vastly knowledgeable and experienced implant specialist to carry out the procedure.
5. All On 4 Clinic fits your permanent teeth the next day
While most dental implant service providers will first fit temporary teeth for 3-6 months before putting in the final prosthetics, the All On 4 Clinic fits the permanent teeth in just 24 hours. The quick delivery is thanks to our dedicated team, state-of-the-art technologies, and unique surgical techniques.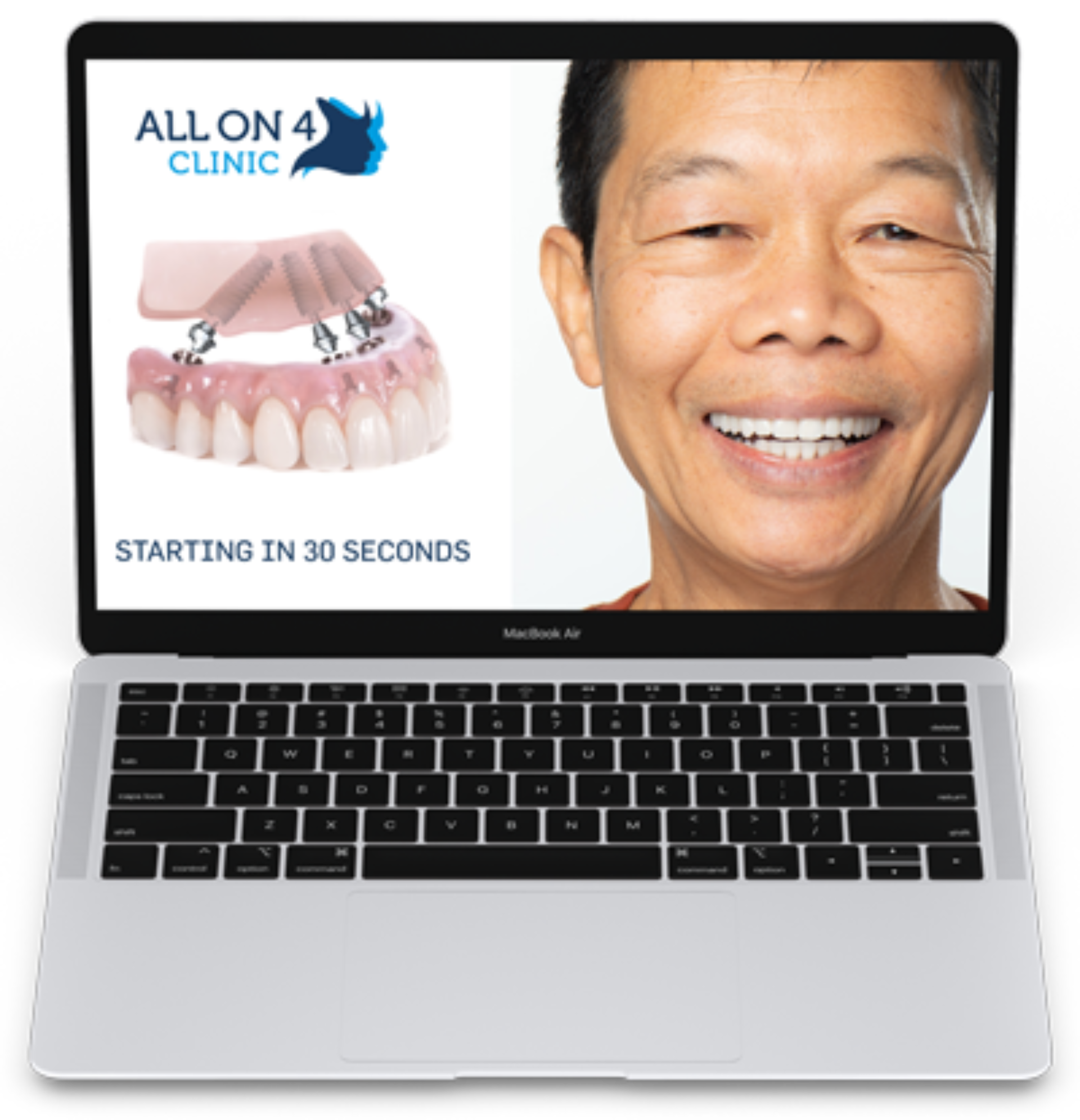 FREE Online Information Webinar
With NEW On-Demand Options and Hosted Implant Surgeon Sessions!
Everything you need to know about All-On-4, All-On-4 Plus and all aspects of the treatment process in less than 60 minutes.
Watch Now!
6. All-On-4 dental implants improve your personality, confidence, and self-esteem
Your smile is one of the first things that people notice about you. It's an expression of confidence and also makes you more socially approachable. If you shy away from smiling due to bad or missing teeth, it's about time you got All-on-4 implants.
7. Not all cases require four implants
A typical dental fitting requires only four implants for the entire set of teeth, but that's not always the case. Some patients may require more implants, depending on their jaw's health, strength, and bone density.
8. All On 4 Clinic fitted teeth are meretricious designed to look and feel real
Not all teeth are identical — natural tooth characteristics such as shape and size are unique to each person. That's why we fabricate the final prosthetics based on the patient's dental imprints before and after the surgery. Our goal for every fitting is functional teeth that fit perfectly in the jaw and look as natural as possible. The options available include zirconia and porcelain prosthetics for realistic dental aesthetics and a natural tooth feel.
9. There are many different payment options when choosing All On 4 Clinic
Custom All-on-4 dental implants come at a cost. Fortunately, we have several financing options that make it more affordable to access high-quality dental implants and fitting services. These include DentiCare, Access My Super, Zero-cost and Zero-interest Secured Load Direct Finance and TLC.
10. All-On-4 treatment dates back to the 1950s
The idea of All-on-4 dental implants may seem modern, but it all started decades ago. All dental implants rely on a concept known as osseointegration: the technique of fitting load-bearing metal implants into living bone structures, which dates back to the early 1950s. During this time, Prof. Per-Ingvar Brånemark was investigating how blood flow affected bone healing by inserting a titanium implant chamber in a rabbit's bone. He noticed that the bony tissues surrounding the chamber seamlessly fused and integrated with the metal. He soon realised that this process could be used to make permanent dental implants. The dental implant techniques have quickly evolved over the years into the sophisticated but effective All-on-4 dental implants that we have today.
Don't hesitate to contact us via our website or call 1300 255 664 to learn more about All-on-4 dental implants.