Most people have a great set of teeth that is bright and shiny at the beginning. Over time, some of the teeth deteriorate and we may lose a couple of them. We may also have previously experienced gum disease, tooth decay, or trauma to the gum, necessitating the removal of some teeth. When we lose teeth, our gums shrink due to a natural process called atrophy, which takes place in the underlying jaw bone.
First impression counts and your smile is a window into your overall wellness. Everyone would like to have a bright and welcoming smile in order to be well-received, but a complete set of healthy teeth is required. Replacement teeth are the solution to make your smile shine.

What Are Replacement Teeth?
They are devices constructed to replace missing teeth. Dental implants are the modern-day solution for teeth replacement, although there are also traditional teeth replacement options like fixed bridges and partial dentures. However, unlike traditional bridges, dental implants don't require adjacent natural teeth to hold them in place.
Dental implants are titanium fixtures surgically fixed into the jawbone below the gum line. An internal screw within the titanium — called an abutment — holds the artificial tooth in place above the gum line. Implants provide strong support for the artificial teeth and prevent them from shifting or slipping so you don't have to worry about them falling out.
Dental implants are a great solution for one or more missing teeth. They provide fixed replacement teeth solutions that help restore both your smile and quality of life. They feel just like natural teeth and they will enable you to eat easily and speak more confidently.
All on 4® Dental Implants
Taking advantage of recent advances in dental technology, we have pioneered a cutting-edge device called All on 4® Dental Implants, which are designed to reverse the visual and functional effects of tooth loss. At our dental clinics, we can insert All on 4® Dental Implants, a revolutionary alternative to dentures and deteriorated teeth.

The All on 4® Dental Implants, referred to as full arch rehabilitation, entail the replacement of the entire dentition on four dental implants rather than placing an implant beneath each tooth. Two implants are placed in the front arch, one each on the upper and the lower jaw. The two other implants are inserted in the upper and lower sections of the jaws at the back of the mouth.

Benefits of All on 4® Dental Implants
Typically, many patients needing dental implants already suffer from poor jawbone structure, especially at the back of the jaws. This often necessitates jaw bone transplant before dental implants can be inserted. In order to avoid bone grafting, All on 4® Dental Implants are inserted into the gum at an angle.
In comparison to older methods, the use of fewer implants optimises mastication and enhances aesthetics.
Fewer implants also simplify cleaning of the teeth and long-term maintenance of oral hygiene.
The All on 4® concept facilitates immediate fitting of the prosthesis to the fixtures, thus avoiding prolonged duration of treatment and minimising disruption to patients' daily activities.
Individualised Treatment
Each patient's requirements are unique. Treatment is therefore tailored to the circumstance of every patient. Some may require more than four implants and others would benefit from bone augmentation. This is sometimes necessary for patients who are heavy grinders and those whose foundations are unable to support the system due to very poor-quality jawbone.
The All on 4® Dental Implant is a modern device capable of rehabilitating a full set of teeth especially in patients struggling with dentures or deteriorated teeth. In most cases, it can be inserted without the need for bone grafting and the entire process can be completed with minimal disruption to the patient's daily activities. Call us today with your inquiry or make an appointment to explore your options.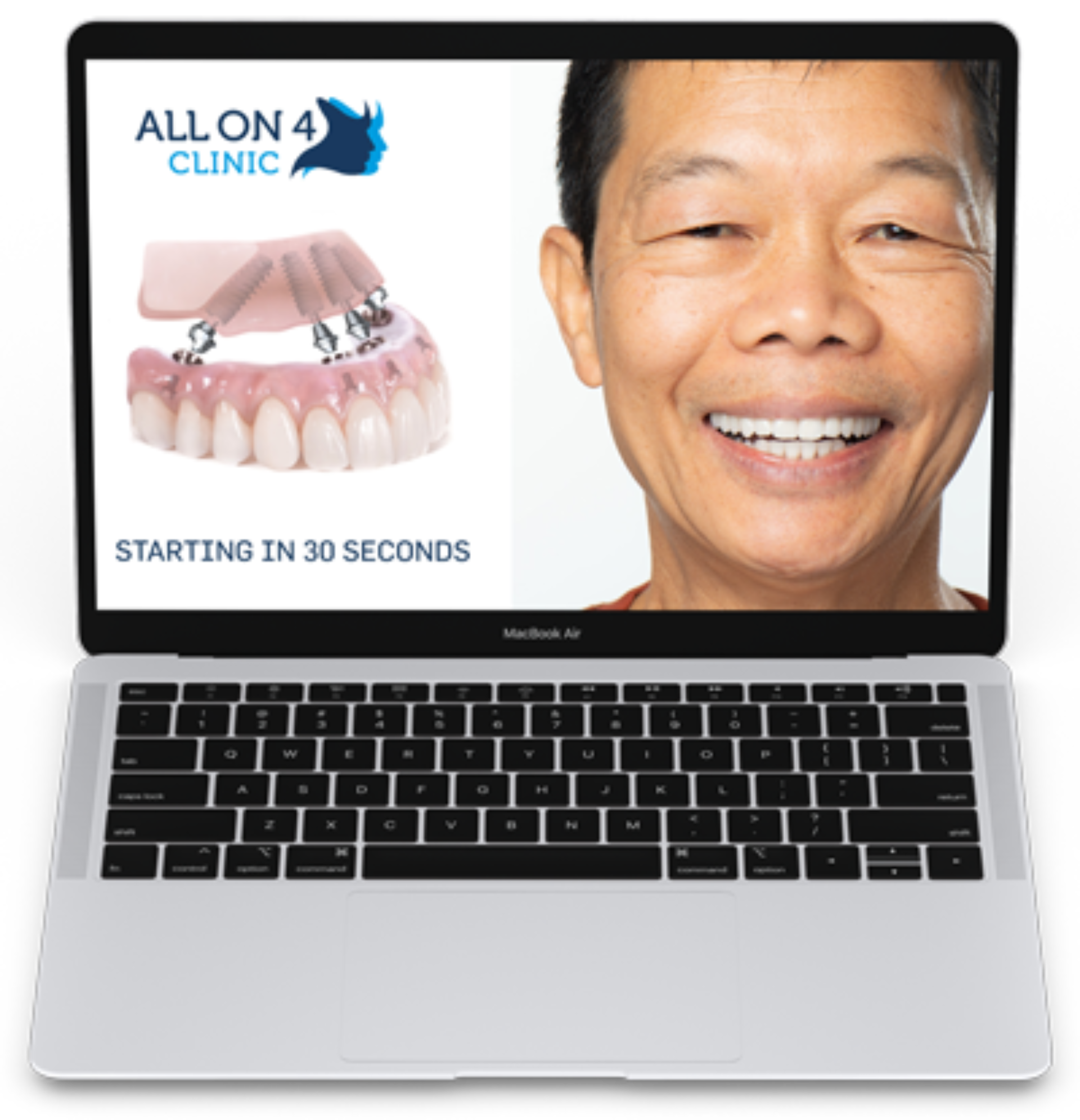 FREE Online Information Webinar
With NEW On-Demand Options and Hosted Implant Surgeon Sessions!
Everything you need to know about All-On-4, All-On-4 Plus and all aspects of the treatment process in less than 60 minutes.
Watch Now!