The term 'ALL-ON-4' refers to the replacement of ALL teeth ON FOUR dental implants, which support them. It is a modern technique where the back implants are tilted 45º to provide the required support for total rehabilitation.
The tilting of the back of implants helps overcome bone deficiencies often found in the back of the jaws and most often avoids the need for bone grafting.

Since fewer implants are used in comparison to older methods, there is less in the way of achieving optimal results. It also allows for simpler long-term maintenance and uncomplicated cleaning.
Dental Implant Solutions
Designed for people struggling with dentures or deteriorated teeth.
Dental implants themselves are small titanium fixtures that are inserted into the jawbone and have, for a long time, been used to support a tooth or a 'Bridge' of a segment of teeth
The fixtures form the foundation for prosthetic replacement teeth. However, when we replace a full set of teeth, often referred to as full arch rehabilitation, whether in the upper or lower jaws or both, we do not need to place an implant under every tooth. We place 2 implants in the front of the arch and 2 in the back at an intended angle, and together these form the required foundation to support the prosthesis.
By placing the implants at an angle, we are able to avoid the parts of the jawbone that are of typically poor quality. This not only means that we can avoid the need for bone grafting, but we can also rely on these to reliably support a prosthesis fitted within days of the surgery.

Benefits Of All-On-4 Dental Implants
There are multiple benefits to the All-On-4 dental implant method, including:
Get Your New Teeth In Just 1-2 Days
You can get an entire set of upper or lower teeth within 1-2 days of your surgery. All-On-4 dental implants offer near-immediate restoration.
Permanent Fixtures
The four titanium anchor points allow the dental sets to permanently secure to your mouth. This means they will not loosen or shift as you can see with traditional dentures.
Less Implants, Less Recovery
Since there are only 4 anchor points as opposed to individual anchor throughout the mouth, there is less recovery time and pain associated with the procedure.
More Affordable
In most cases, All-On-4 dental implants are a cheaper alternative to paying to replace each tooth individually.
Great For All Ages
All-On-4 dental implants are a fantastic option for patients of all ages who have wear dentures or suffer from deteriorated teeth.
Integrated Systems
Our laboratory processes are integrated into the All On 4 Clinic framework.
How Our All-On-4 Procedure Works
Before your treatment, our dentists will assess the current condition of your upper and lower teeth during your initial consultation. From there, we will develop available options for you and explain them to you in a clear manner.
Before the treatment
Before All-On-4 treatment. The patient had loose and splayed teeth from gum disease.
How the implants connect with the teeth
This video demonstrates how the implants are inserted and the teeth attached.
After the surgery
After surgery healing caps are fitted to cover the implants while the teeth are being made.
An X-ray after surgery
This X-ray shows the 4 implants in the upper jaw.
Try In
Before completing the final teeth, a template/sample is tried in the mouth same day to check the appearance and bite before finishing.
Final Teeth 24-48 hours later
Your final teeth are inserted after 24 - 48 hours. With All-On-4® treatment the patient enjoys permanent, reliable, fixed teeth.
Why Choose All-On-4 Clinic Australia?
Our clinics' focus on the All-On-4 dental implant method - that is why it is in our name! Our success speaks for itself with a high number of satisfied patients who have had their smiles transformed.
We have 15 state-of-the-art clinics based around the greater Australia area. This allows us to serve a wide array of Australian residents. Our dentist technicians helped pioneer the All-On-4 method in Australia, further cementing our position as the true All-On-4 experts.
The All-On-4 Clinic utilises a network of specially-trained clinicians that focus on both immediate and fixed full set teeth replacement. Our state-of-the-art facilities are a reflection of the quality of work we provide. We have exceptionally high standards in terms of aesthetics, function, and comfort. Patient comfort and satisfaction are our utmost priorities, so we work to create an environment you can relax in, and rest assured that you are in good hands with experienced dental implant procedures.
There is no referral required to come to the All-On-4 clinic for treatment. However, most of our patients have been referred to us by their dentist given the extent of deterioration or condition of their teeth. Patients can opt for having their own dentist involved in the procedure. In this case, your dentist would focus primarily on the restorative portion of the treatment. They will work with you after the surgery to ensure you have everything you need to progress through recovery and maintain clean and healthy gums. They will also assist you in keeping your dental implants in their best condition. We will work with your dentist throughout the procedure timeline to keep them notified of all updates with your case.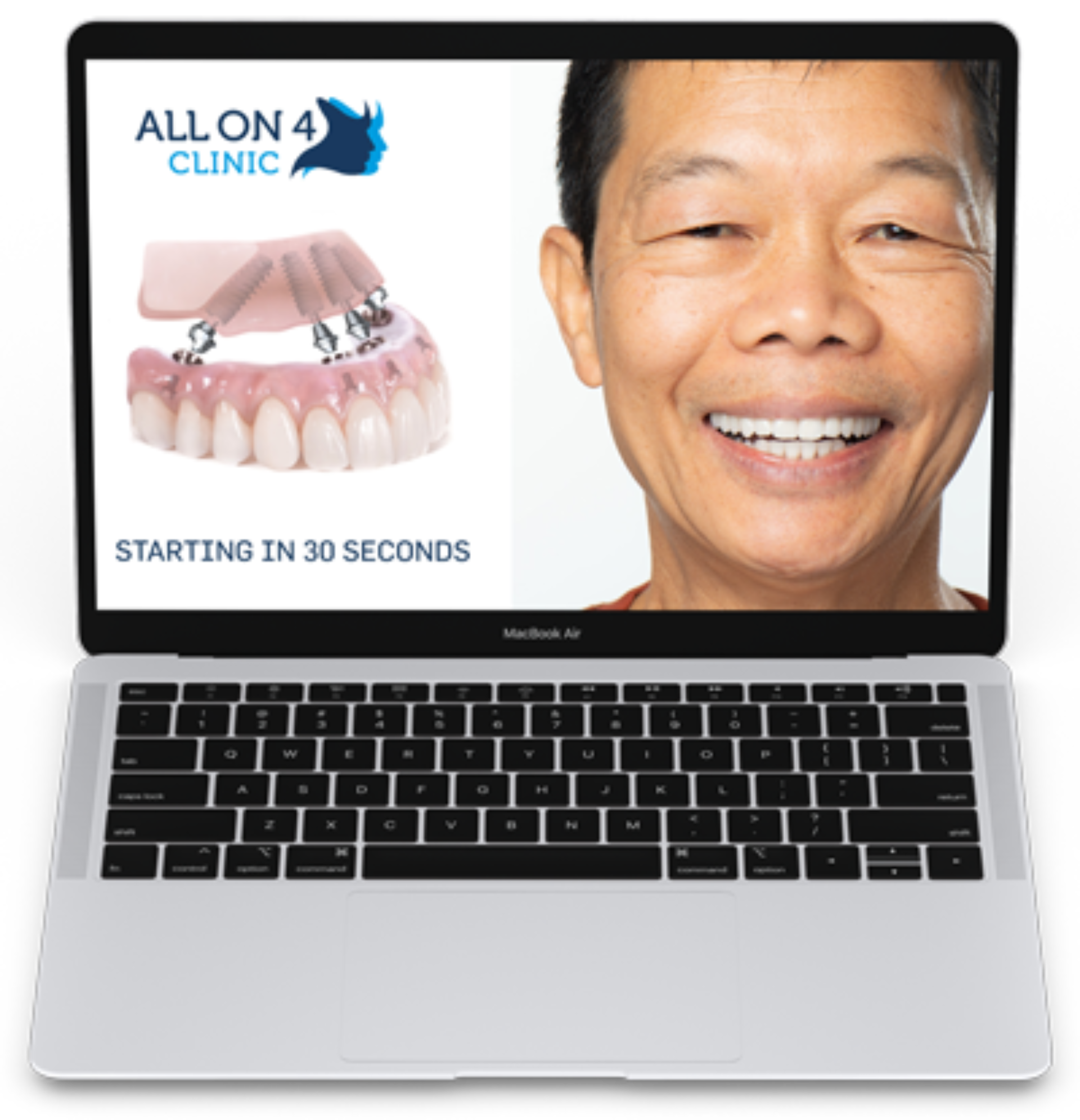 FREE Online Information Webinar
With NEW On-Demand Options and Hosted Implant Surgeon Sessions!
Everything you need to know about All-On-4, All-On-4 Plus and all aspects of the treatment process in less than 60 minutes.
Watch Now!
Upper & Lower Rehabilitation with All-On-4® Dental Implants
Our clinic specialises in immediate teeth within 1 - 2 Days
By using fewer dental implants to support the prosthesis there is a smaller number of components, thus more versatility to design the most optimal function and aesthetics.
Importantly there is also less in the way of cleaning, which helps simplify the hygiene and maintenance over time.
This procedure is the most common treatment in our clinic today for full arch rehabilitation and when appropriate it is often suitable for all lower jaws and most uppers.
But even in Upper cases with extremely poor quality or quantity of bone, at the All On 4 Clinic we can still offer reliable and streamlined immediate solutions using our own All On 4 Plus and Zygoma Plus treatments.
Make an appointment today to explore your options or call us on 1300 255 664 with your enquiry.
Actual Patient
The All On Four concept
Immediate Replacement Teeth
The All On Four concept involves the immediate fitting of the prosthesis to the fixtures, also known as Immediate Loading. It sounds simple, and this is exactly what we aim for our patients to experience …a process that appears to be simple and seamless.
But this is not to be confused with it being a simple procedure. This is a highly advanced surgical procedure that offers many advantages to older methods of teeth replacement, and which has remarkable success when performed by experienced professionals who have received special training.

But having a well-trained team is not sufficient on its own. To facilitate the immediate replacement of teeth there must also be a facility that can cater to immediate loading with a specially fitted operatory that is equipped for general anaesthetic or IV sedation, as well as an integrated dental implants laboratory.
The All On 4 Clinic is known for its focus and expertise in this area and is now open in Melbourne with locations in Burwood East, Armadale, Kew, Brunswick, Ballarat, and Wonthaggi. Sydney with locations in the CBD, Double Bay and Burwood as well as locations in Brisbane, Perth, and Tasmania.
All-On-4 Clinic Patient Booklet
Unrestricted the Official Patient Booklet
Our information booklet provides you with information on the All-On-4, All-On-4 Plus treatments, Doctors, and our patient expereinces.
Download Free Booklet
How Much Do All-On-4 Dental Implants Cost?
The costs for replacing a full set of upper or lower teeth varies on your exact treatment.
Costs start at AUD$18,000. Our costs are typically much lower than other providers providing this same service. We always strive to provide our high-quality product at the most affordable price point, as we understand the financial burden such a procedure can bear. Our All-On-4 Plus FINAL option allows us to place the final teeth immediately within 24 hours of the surgery.
We understand the procedure may not be in everyone's budget, but we can attest to the value our patients get with their finished product. Our patients leave our facility with a renewed sense of confidence, self-worth, and health. Plus, the All-On-4 method provides a more permanent solution, eliminating the need for maintenance costs down the road with follow-up appointments and procedures.
We also offer several financing options available for approved applicants. Terms and conditions apply to our financing applicants and options may vary based on clinic location. Our All-On-4 Dental Implant financing options include:

Our All-On-4 Clinic Locations
The All-On-4 Clinic is well known throughout Australia.
Call Now For Your Initial Consultation
Ready to take the next step and improve your oral health?
Ready for a permanent dental solution that will give you the smile of your dreams? Call All-On-4 Clinic now to set up your initial consultation so we can get you on the path towards a new you!

1300 255 664