The cost of All-On-4 dental implants to replace a full set of upper or lower teeth starts at AUD$18,000 (see table below).

This is using a standard process involving fitting of initial provisional set of teeth constructed using a denture-like prosthesis adapted over the implant fixtures, and is offered as the cheapest or budget option, though this method will require future conversion of a final prosthesis at an additional cost.

However, other than the hidden costs of the provisional/temporary teeth methods, there are significant pitfalls associated with these methods, which can lead to long term issues with the implants.

To eliminate the pitfalls we offer our unique All-On-4 Plus FINAL option, where the FINAL teeth are actually inserted immediately within 24 hours of surgery.
This involves All-On-4 Clinic's unique original system developed by its founder, Dr Alex Fibishenko, and has been the most popular choice for discerning patients as it offers the absolute best in terms of value, comfort, and aesthetics.

The FINAL teeth option is also popular with patients who travel to our clinics from other parts of the world, because they can return home without having to travel again for more treatment.

The maintenance of the bridge (replacement teeth) is simple and can be undertaken by any local dentist or hygienist.
Every patient is slightly different and has unique needs and it is impossible to ascertain suitability or the exact treatment or cost without an assessment by one of our dental implant experts.
We provide every patient with a detailed printed Treatment Proposal and quotation following their consultation visit.
We fully understand that implants may not be affordable to every patient, but those who do undertake these treatments typically find great value in being able to enjoy not only a great smile, but improved confidence, ability to eat all foods, and overall an improvement in quality of life.
Other Providers 1

All-On-4 Clinic

Treatment Methods:

All-On-4 2

With PROVISIONAL teeth

All-On-4 Plus

With FINAL Teeth

Upper or Lower All-On-4
$18K-$27K
$25K
Add On: Zygoma and or Grafting
(Extremely poor bone)

...1 IN 10 CASES

$10K-$15K
if available!
$6K-$9K
Typical time frame to Final Bridge
3 - 6 Months
1 - 2 days
Features & Benefits:
Immediate Titanium Frame

Not Available

Immediate High Aesthetics
Efficient & Convinient Treatment Process
Reliability
Cleanability
Durability
Additional Cost for Final Bridge
$8K-$10K
Included
Add On: Ceramic Teeth

ON SPECIAL

$12K-$20K
$10K

BEST VALUE!
Costs shown are per single arch. There may be slight variations between clinics and depending on individual needs.
1 The fees and features shown are typical as there is a large variation in the methods between providers and what is reffered to as "All-On-4".
2 Alternative All-On-4 methods with immediately fitted teeth that are temporary.
Payment Options:
Apart from our policy of maintaining our position as world leaders in terms of the value that we offer our patients, we also have various finance options to make it more affordable and help more Australians avoid the need for removable dentures.
We offer the following finance options for approved applicants (T&C's apply, and available options may vary depending on location).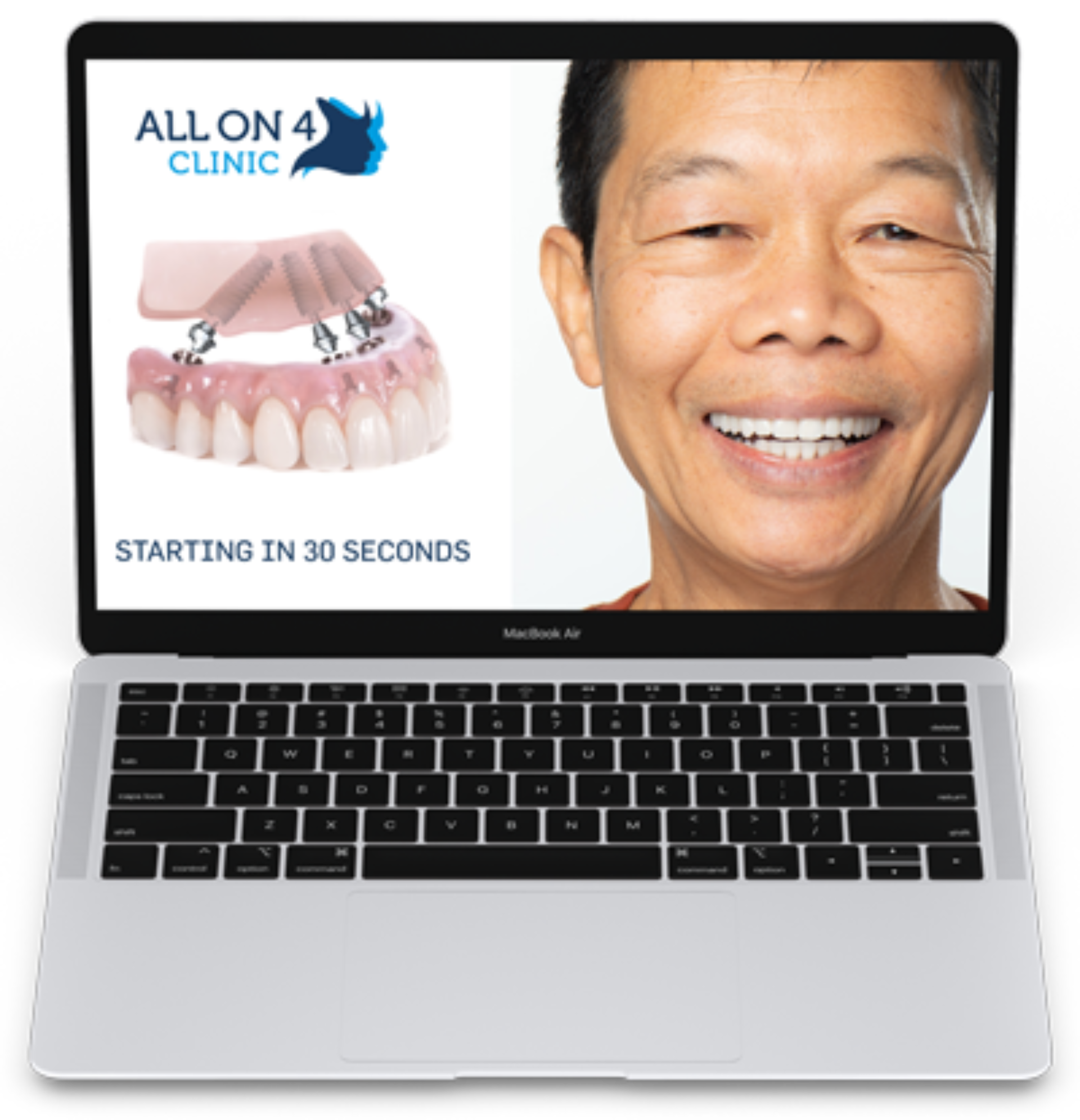 FREE Online Information Webinar
With NEW On-Demand Options and Hosted Implant Surgeon Sessions!
Everything you need to know about All-On-4, All-On-4 Plus and all aspects of the treatment process in less than 60 minutes.
Watch Now!