What Are All On 4 Dental Implants?
The standout feature of the All On 4 procedure is that ALL of your teeth are replaced by just four dental implants. These small titanium fixtures are used to support both rows of new teeth, which are made of premium materials like porcelain, acrylic, and titanium. Two implants are inserted in the front of the arch while the other two, tilted 45º, are inserted into the back.
These fixtures are inserted into your jawbone during the first part of the streamlined All On 4 procedure. You'll then be given a prosthesis to wear while your tissue heals, which can take about six months. You'll receive your final set of permanent teeth during the second part of the procedure.
How Do All On 4 Implants Compare to Alternatives?
There are a few considerations to assess your implant treatment options. For your convenience, here are four categories where our customisable All On 4 implants come out on top.

Practicality: All On 4 implants are very functional, practical, and easy to maintain. You can essentially treat them like normal teeth and clean them by brushing twice a day with a proxy brush and flossing daily with unwaxed floss.
Strength: When it comes to long-term durability and strength, no alternative compares to All On 4. Traditional implants have to be replaced after just 5 to 15 years, but All On 4 implants are entirely permanent. This also makes them more convenient than dentures, which have to be taken out daily before sleeping.
Aesthetic appeal: The aesthetic beauty of our implants is hard to match. Their monolithic zirconia and porcelain materials give them a look that's both stunning and natural-looking.
Versatility: There aren't many dental issues that can disqualify you as a candidate for All On 4 implants. Our implants are ideal for those who've been rejected for traditional implants, including longtime denture wearers and people with atrophic jaws.
While All On 4 implants are considerably more versatile, it should be noted that there are still a few reasons you may be disqualified from receiving them. If you grind your teeth, smoke, or take certain medications, your dentist may suggest an alternative that's better suited to your teeth and overall health. We encourage you to speak with one of our registered clinicians to learn more.
Contact an All On 4 Dental Clinic in Sydney
If you're interested in receiving All On 4 in Sydney, please reach out to the All On 4 clinic nearest to you. All On 4 dental implants are only available from our network of approved clinics. These state-of-the-art facilities have the equipment and experienced, hand-picked clinicians needed to perform full set teeth replacements.
Our customer service team is here to answer your questions. You can contact us at your next convenience by calling 1300 255 664 or by completing our enquiry form. We hope to hear from you soon.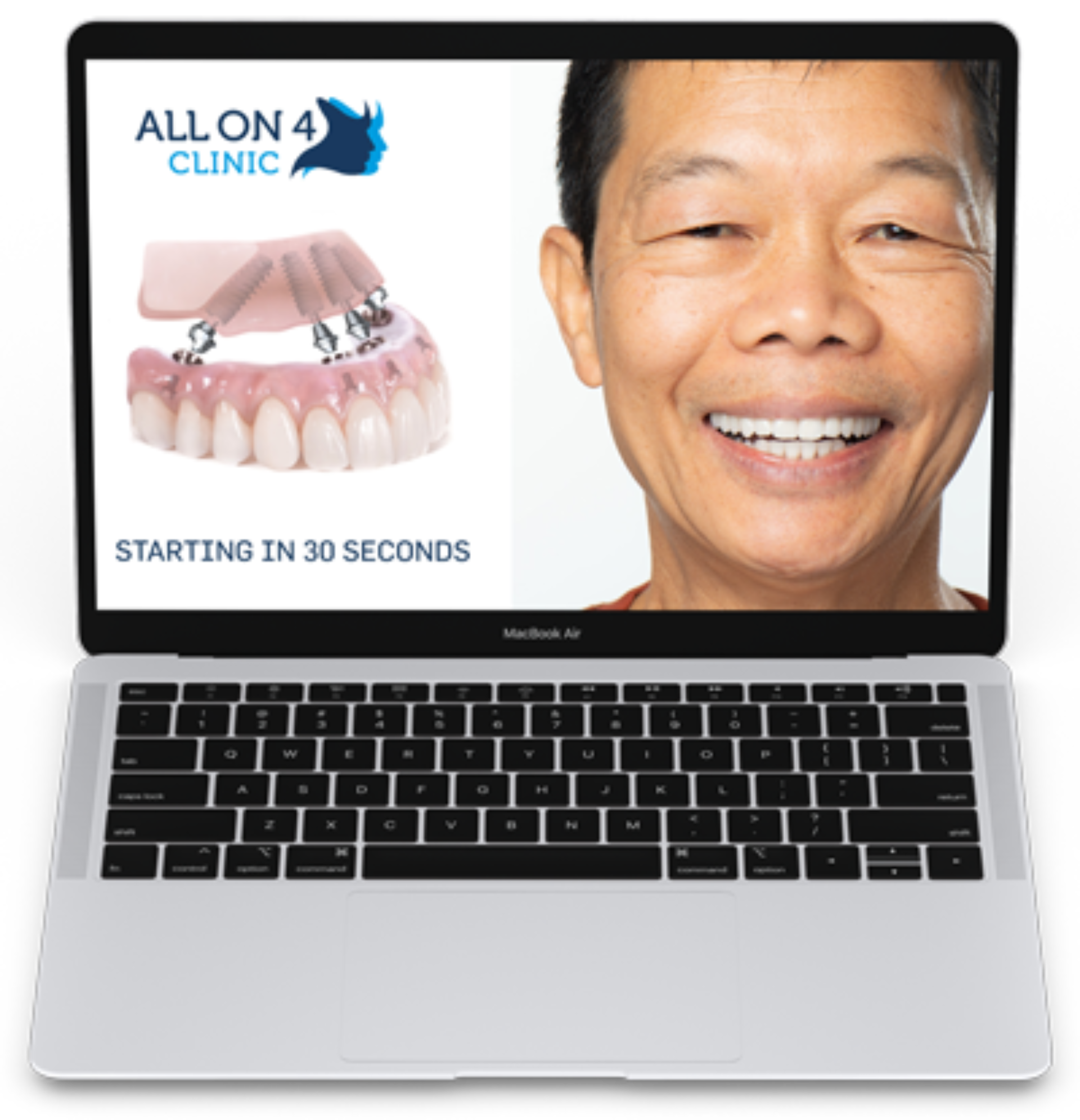 FREE Online Information Webinar
With NEW On-Demand Options and Hosted Implant Surgeon Sessions!
Everything you need to know about All-On-4, All-On-4 Plus and all aspects of the treatment process in less than 60 minutes.
Watch Now!